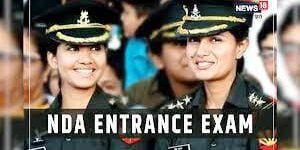 NDA exam is conducted by the Union Public Service Commission twice a year for admission to Army, Navy & Air Force wings of National Defence Academy and Indian Naval Academy courses. you can join best coaching classes at Dashmesh academy in order to renew your skills and to prepare for this big-time competitive exam.
COMPONENTS OF NDA EXAM
UPSC conducts NDA exam in two parts, a written exam, and a personality test (SSB interview). The written exam will consist of two papers, Mathematics and General Ability Test (GAT).
Written Exam Paper Pattern:
| | | | |
| --- | --- | --- | --- |
| PAPERS | SUBJECTS | MAXIMUM MARKS | DURATION |
| 1 | MATHEMATICS | 300 | 2.5 HRS |
| 2 | GAT | 600 | 2.5 HRS. |
| TOTAL | | 900 | 5 HRS. |
Exam pattern
All the Questions would be asked in objective type with multiple choice answers.
Language of Paper :
Marks distribution
For Mathematics: One will be given 2.5 marks for each right answer.
For GAT : One will be given 4 marks for each right answer.
There is a negative marking in mathematics as well as GAT However 0.33 marks will be deducted for each wrong attempt.
SYLLABUS for NDA exam
Mathematics
Algebra
Matrices and Determinants
Trigonometry
Analytical Geometry of two and three dimensions.
Differential Calculus
Integral Calculus and Differential Equations
Vector Algebra
Statistics and Probability
English
Grammar and usage
Vocabulary
Comprehension and cohesion in extended text to test the candidate's proficiency in English
General Knowledge
Physics
Chemistry
General Science
Geography
Current Events
For sample papers click
http://dashmeshacademy.com/sample-papers/
Advantages at Dashmesh academy
Faculty
Professional as well as determined faculty of all the subjects
Study material
Particularly Covers entire syllabus through previous years question papers In addition to doubt sessions.
In addition Previous exam questions and answers with explanation.
Equally important tips to attempt reading comprehension sets
Communication
More individual Attention
need based alternative approaches to learning
Above all Motivating environment.
Improvement in individual performance
Provides not only worthy study material but also specific test series for the entrance exam.
Easy shortcut techniques in order to solve mathematics exam quickly as well as accurately.
Learning plan tailored to needs.
most importantly Success at increased pace.
Time management strategies
Hostel & PG Facilities for students from different region.
FAQ's Related To Filling Form Of NDA Exam
Many applicants face problem when they are filling the form NDA exam. Students do lots of mistake due to confusion. Here are some frequently asked questions list that resolves your issues and helps you .
1: In case I made a mistake in my current form, Can I fill another forms
Answer 1: Yes you can fill other form, If you made any mistake by chance. But when you fill new form kindly use new email_id website does not takes same email_id again.
2: Do I need to update the upper authority members that I am filling up two forms?
Answer 2: No, It is not necessary to inform the authority. You just fill the form with new email_id
3: How do I upload the signature and photographs ?
Answer 3: Read the instructions carefully like Photograph size and signature size after that upload scanned photograph and signature.
4: – Uploading Signature, thumb Impression and Picture is mandatory or not?
Answer 4: Picture uploading is mandatory, however in some case thumb impression and Signature is optional, you can fill signature with thumb impression manually after taking copy of form. You can also take help from instructions given with form while you are filling
5: – Is it possible to resize the picture?
Answer 5:You have to upload picture according to given guidelines, Size information is also given on form, ( Width and length ) The simplest way to resize a picture is with MS Paint, firstly you just click "resize" option in toolbar, a popup box will open then click on "pixel" , Un-tick the 'maintain aspect ratio' option. lastly enter the pixel size lastly save as your picture.
6: – Is it mandatory to have a colored admit card or Black and White is enough
Answer 6: No you can get whatever you have .
7: -Hard Copy ( Print Out) of application form is required any where?
Answer 7: No its not required, you can take a print copy or screen shot of your application form for your record that what you choose. Print copy of application is only required in Naval Direct Entries.
For more information click
http://www.upsc.gov.in/examinations/