Indo Tibetan Border Police deploys services is related to defense and other guarding duties from Ladakh to Arunachal Pradesh. ITBP jobs are classified into gazette (Group 'A' and 'B') and non-gazette (Group 'C' and 'D') positions. The recruitments of Group 'A' & 'B' gazette employees are carried out by the Union Public Service Commission (UPSC) through exams.
The recruitment to Group 'C' Candidates is be selected by a written test, physical examination and interview. Group A Indo Tibetan border police jobs are filled through a special selection board that conducts physical efficiency test, medical examination and interview process. The candidates of group A would be called in for the written test based on their score in UPSC examination.
ITBP posts are as below.
1. Assistant Commandant (AC) (Engineer, Assistant Surgeon, Veterinary, Judge Attorney)
2. Deputy Commandant (Deputy Judge Attorney General)
3. Inspector (Editor, Librarian, Hindi Translator)
4. Sub Inspector (Overseer, Telecommunication, Hindi Translator, Staff Nurse)
5. Assistant Sub Inspector (Radiographer, Laboratory Technician, Pharmacist)
6. Head Constable (Engine Driver, Workshop, Master, Motor Mechanic, Dresser Veterinary, Telecommunication, Education & Stress Counsellor, Midwife)
7. Constable (Driver, Motor Mechanic, Electrician/Plumber/Carpenter/ Mason/Blacksmith/Welder/ Painter, Telecommunication, Cook/Water Carrier/Barber/Washerman/Safai Karmachari, Tailor/Cobbler/Gardener Animal Transport, Crew, Workshop).
Selection Process may include following steps
PET (Physical Efficiency Test)
Document verification
PST (Physical Screening Test)
Written test
Trade test
DME (Detailed Medical Examination)
RME (Re-Medical Examination) (required if any)
for more details click https://www.itbpolice.nic.in/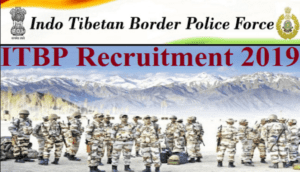 http://recruitment.itbpolice.nic.in/
for syllabus and sample papers click https://dashmeshacademy.com/sample-papers/